Learning & Development
Godrej Agrovet integrating learning and business strategy
The learning agenda at GAVL is linked to the business plan and talent development processes business goals provide inputs on future skill requirements and the talent agenda helps in identifying Hi-Pos
Godrej Agrovet Limited (GAVL) is a diversified; Research & Development backed agri-business company, dedicated to improving the productivity of Indian farmers by innovating to sustainably increase crop and livestock yields and help feed our nation.  The company holds leading market positions across different sectors, including Animal Feed, Oil Palm Plantations, Crop Protection, Hybrid Seeds, Dairy and Processed Poultry.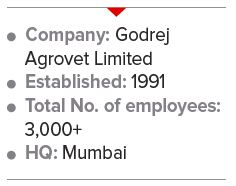 Being an inspiring employer has been key to GAVL's strategy. The company's employer brand is built around the propositions of Your Canvas, Tough Love and Whole Self. Your Canvas talks about the tremendous growth potential. Even as the business has scaled up, over the last 5 years, GAVL's team members have more than doubled in number. This, combined with a wide geographical spread of over 70 locations and diverse team member profiles, makes for both exciting growth opportunities, as well as unique challenges. Tough Love, central to the Godrej philosophy, details the focus on performance and potential, taking bets on people and mentoring them to be successful. A focused high potential program helps identify and groom future leaders through customized development plans. The company's rewards system also ensures a significant upside for high performers. Whole Self-has been built around the belief that passionate, rounded individuals with diverse interests make for better Godrejites. This is why people policies and processes are designed to encourage people to bring their 'whole selves' to work, while also create an enabling space for them to do so. Trust-based sick leave, maternity benefits, medical insurance covers for all team members, and flexi-working, are some such initiatives. The company is also strongly committed to becoming more diverse and inclusive. 
One of the key focuses for GAVL has been to find ways to integrate and engage their widespread team members. They have done this by going Digital, leveraging different platforms and making long-term technology investments in technology platforms. Today, GAVL manages all its critical people processes on digital platforms like Successfactors, Workplace by Facebook and Learning Management Systems to create seamless, interactive and on-the-go communication for all team members across levels and regions.
Godrej LOUD builds on the premise that if you are truly passionate about something, then you will potentially bring that passion to your work; And to Godrej
Leadership development has been a particular focus. Learning programs have been designed to cover both conceptual understanding as well as practical application to GAVL's business through live case studies. GAVL has partnered with leading business schools like IIM Ahmedabad and IIM Indore to co-facilitate these programmes. Participants are also closely mentored by the GAVL leadership team.